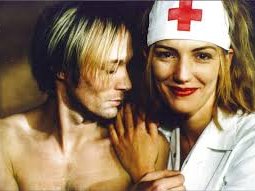 Fredrik Vogel is a graduate from The National Film School of Denmark (1993). He has worked with animation, feature films, short fiction and documentaries, in all genres and on all artistic levels - for more than 30 years.
2010-2016
Director and producer for 20 training films for staff about the Brain Lounge (Hjerneloungen) for the city of Copenhagen and Nordic Brain. (YouTube channel)
2006-2010
Development Producer and financial investor in HUNDEN IB, a cross-media animation project for DR children's department, West Danish Film Fund, NFTV-fund (TV series, online games, mobile content, and print publishing)
2006
Producer HUSH (Schhh), animated short film for DFI, SVT, DR children's department, NFTV fund
2005
Producer AWFULLY EMBARRASSING (Røde Ører), animated short film for DFI, SVT, NRK, DR youth department, NFTV fund
2004
Producer DADDY (Palles Far), 26 x 5 minutes animated series for TV2/Danmark
Development Producer and investor in THE PIXI FILMS animated series, 39 x 5 minutes, DR children's department, SVT in collaboration with Carlsen's Publishers
2003
Development Producer MIRZA, animated feature film, DFI and (DCCD )the Danish Center for Cultural development of developing countries
2002
Development Producer TVILLING, feature film
2001
Development Producer PIP & PAPEGØJER, feature film, for DFI and DR Children's dept., and Angel Films
2000
Distribution and PR / marketing DANCER IN THE DARK, EN KORT EN LANG, OKAY, POV, etc.
1999
Distribution and PR / marketing LOLA RENNT, KIRIKOU, HANUMAN, KARLA KANIN BIO, ROMANCE and others
1996-1998
Producer SALLIER STORIES, TV-series 13 x 7 minuters for DR youth dept, SVT, NRK, YLE, RUV, DFI, NFTV fund, VPRO Holland
Producer PROBLEMS, animated mini-series, for DFI
Producer TABER Danish TV drama for Dansk Novellefilm
1997
Producer HAIR music video for the Betty Nansen Theater
Development Producer FALKEHJERTE, Feature film, Angel Films
1996
Production Work BLOMSTERFANGEN TV drama, Nimbus Film
Production manager A CORNER OF PARADISE (Et Hjørne af Paradis), Feature film, Nordisk Film
1995
Producer OUTSIDE (Udenfor), documentary DR TV Factual and DFI
Development Producer STORASYSTER & LILLEBROR animated tv-series, Swedish film industry
1994
Producer THE CHRISTMAS GOSPEL (Juleevangeliet), music and animation for DR TV Factual and DFI
Producer ART SUPPORT, animated short, for DFI
Producer THE BEST OF ALL WORLDS (Den Bedste af alle Verdener), animated short for DFI
1993
Producer MY JEWISH GRANDFATHER (Min Jødiske Bedstefar), documentary
Producer NAKED (Nøgne), documentary,
Producer RAKEL MIRAKEL, animated short
All for the National Film School of Denmark (Den Danske Filmskole) and TV2/Danmark
1992
Production manager UNDER SOLEN Wanngård film & TV, Stockholm
1990
Production Assistant MED EN HELVETES KRAFT, Mekano Pictures/TV4, Sweden
1986
Production assistant various feature films and commercials, HB Hinden, Stockholm
1981
Production assistant WAITRESS, Troma Inc., New York, NY, USA (Trailer)